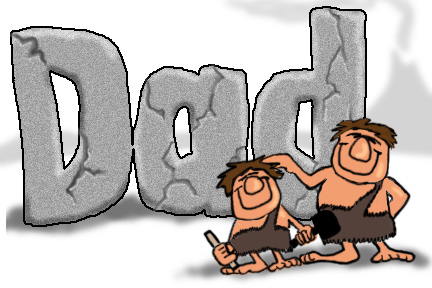 Father's Day is a day honoring fathers and celebrating fatherhood, paternal bonds, and the influence of fathers in society. Father's day is celebrated on the third Sunday of June in most of the world's countries. Father's Day 2010 is June 20, 2010. Do you want to buy some unique gifts that your father can admire and make him laugh and feel like number one? Of course you do. So don't wait until the last moment to buy a gift or plan a surprise for your special father!
Before you buy the Father's Day gifts, have a really good think about the man you call father. Consider your father's passions, his hobbies and, the most important one, his idiocies, and hold them in a mental image when you pay a visit to a local store or an online store. You can take a moment to think about your dad's hobbies and interests and select a gift based on what your dad likes. Let's take sporty dads as an example, If he is into golf, soccer, rugby, or horses, you're sorted. Some online stores offer a large range of themed gifts to make a truly special Father's Day. For the dad who lives on the links, challenging him to a Fathers Day golf game is a good idea. To avoid spending too much money on your shopping online, try to find and use
online coupons
which issued by online stores that you can use to get an instants savings like 25% off, $50 off, free shipping on your order or get a free gift. When your shope online, avoid gifts like colognes unless you are 100 percent sure that your dad likes to get that kind of gift.
Here are some selected online promotions, gift ideas and discount coupons for this Father's Day:
-
Kohls.com Coupons Online
: Save up to 40% off on your purchases online at Kohl's.com, you can also shop gifts by price range like "Shop $5 or less", "Shop $30 or less", etc.
-
BigDogs Coupons
: Big Dog Sportswear produces high quality, reasonably priced activewear and accessories. Use coupon to save up to 50%!
-
Verseo Coupons
: Get $10 OFF on LaserTron Hair Rejuvenation Kit and/or ThermoSoles Rechargeable Heated Insoles.
-
CompactAppliance.com Coupons
: When you spend $199 or more and enters coupon code "DADSDAYGIFT" at checkout, you will receive a FREE Notebook Charcoal Grill!
-
Freshpair.com Coupons
: Just in time for Father's Day, Freshpair is offering 25% off men's Calvin Klein underwear!
-
Meijer.com Coupons
: Save 60% Off Mens Jewelry & Watches and Get A FREE $25 or $50 Meijer Gift Card!
-
Hirekogolf.com Coupons
: Get Dad a gift he not only will have a blast using, but a gift that will last a lifetime! From now until midnight June 20, get 15% off custom assembled Hireko Golf Clubs.
-
Discoverystore.com Coupons
: Get Free Shipping on Father's Day Gifts over $59! Save 75% off Discovery Father's Day Offers!
Fathers are notoriously difficult to buy gifts for on birthdays, or Father's Day. But it needn't be so. It's always a great idea to buy somthing online for a superb range of gifts to bring a smile to his cheeks! Don't forget, use online coupons to save your money whist shopping online! CouponSmarter.com is your great source for free online coupons!